Gartner's Annual CMO Spend Survey is always an interesting read.  It provides a peak into the minds of CMOs and the issues they are dealing with leading large marketing organizations.  One thing that clearly continues to be top of mind is the trend of in-housing work that, historically, was managed by agency partners.  According to this year's survey, almost one third of CMOs shifted work from agency partners to in-house teams.  Of that group, more than half brought Social Media in house and more than 40% are handling creative production, creative concepting and content marketing with internal resources.  Reasons why this trend started are many – desire for more consistency across channels and creative message, potential cost savings and quicker turnaround times are at the top of the list.  Reasons why the trend will likely continue are a bit less obvious.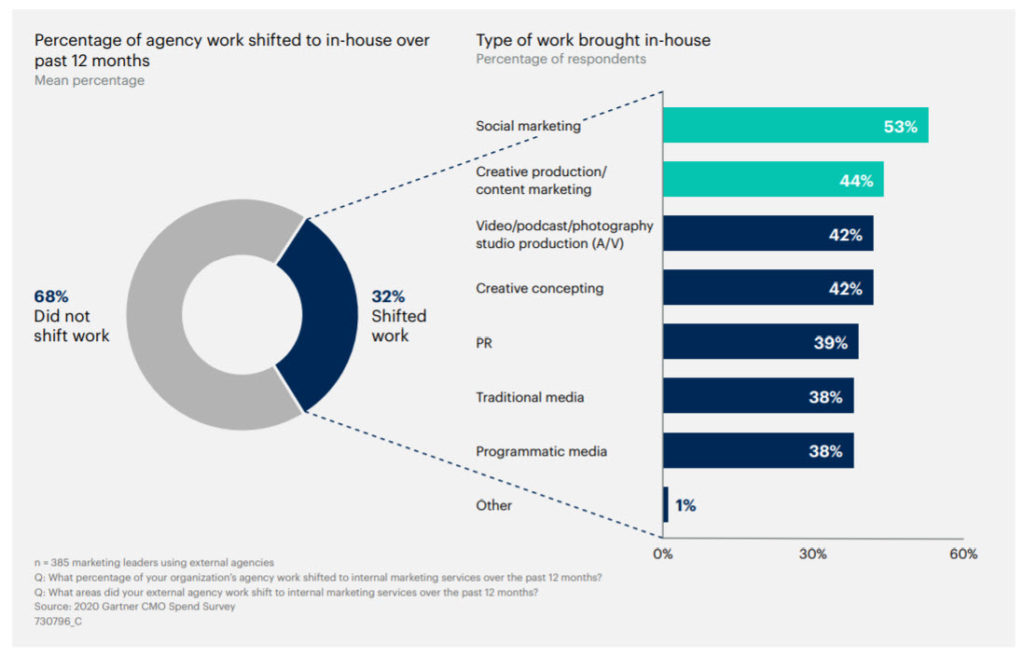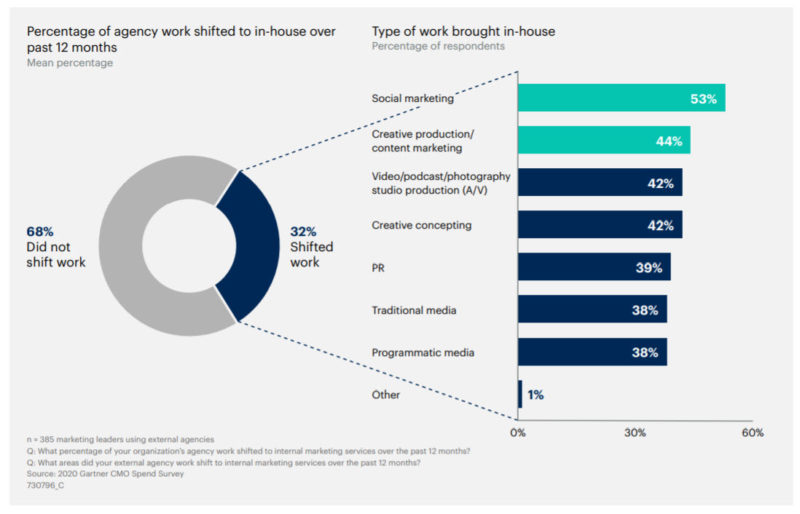 In my experience working with agencies, most organizations treated their big agency partners like extensions of their internal team.  Data sharing was a non-issue as everyone viewed it as a 'one team, one dream'.  GDPR, CCPA and the growing body of privacy legislation makes that model much less likely to continue.  C-suite executives are now far more involved and interested in how marketing is being conducted and what controls are in place around customer data because the stakes are huge.  One high profile data breach could cost a company 9+ figures in fines and lost business – not to mention the painful burdens of litigation and remediation.  Lowering those risks by moving functions in house seems to be a far more attractive alternative in light of those considerations.
Another less obvious reason that in-housing will likely continue is because of the changing workforce.  Ten years ago, finding digital expertise was tremendously challenging.  For the most part, companies located outside of major population centers could not consistently find talent with the skills necessary to execute digital marketing campaigns.  Today, tele-working makes that problem much less pervasive – not to mention the fact that general digital know-how is far more common today than it was in years past.  Digital marketing is no longer some specialty function inside a traditional marketing organization.  Digital is now the epicenter of marketing in most organizations and the workforce has adapted.
I still believe that agencies have an important role to play in the marketing ecosystem of the future.  Having partners that can look up and watch the landscape while my team and I are looking down, focusing on the business has been and will continue to be of value.  Agencies will also continue to be a way to bring external perspective and new and emerging technologies and platforms to your programs.  The old days of leveraging an army of external workers to do basic blocking and tackling, however, may soon be a thing of the past.