The Rise of Conversational AI Search
The age of AI has dawned, promising to revolutionize search engine optimization. With innovations like ChatGPT and groundbreaking updates from search giants Google and Bing, we're on the cusp of a tectonic shift in search marketing. Brands with a vision and willingness to pivot their SEO strategies can reach new levels of success.
Catalyzing this transformation is the emergence of conversational AI like ChatGPT. Thanks to advances in transformer language models, ChatGPT can have natural, human-like conversations on virtually any topic.
Leading search engines are racing to integrate similar generative AI capabilities. Take Google's new Search Generative Experience (SGE) experience. SGE uses AI to create custom overview snapshots atop search results pages, tailored to the user's query. Early data indicates SGE is already surfacing for 15-20% of searches. The goal is to provide quick access to in-depth information, spark engaging user dialogue, surface expert perspectives and user reviews, and reduce friction.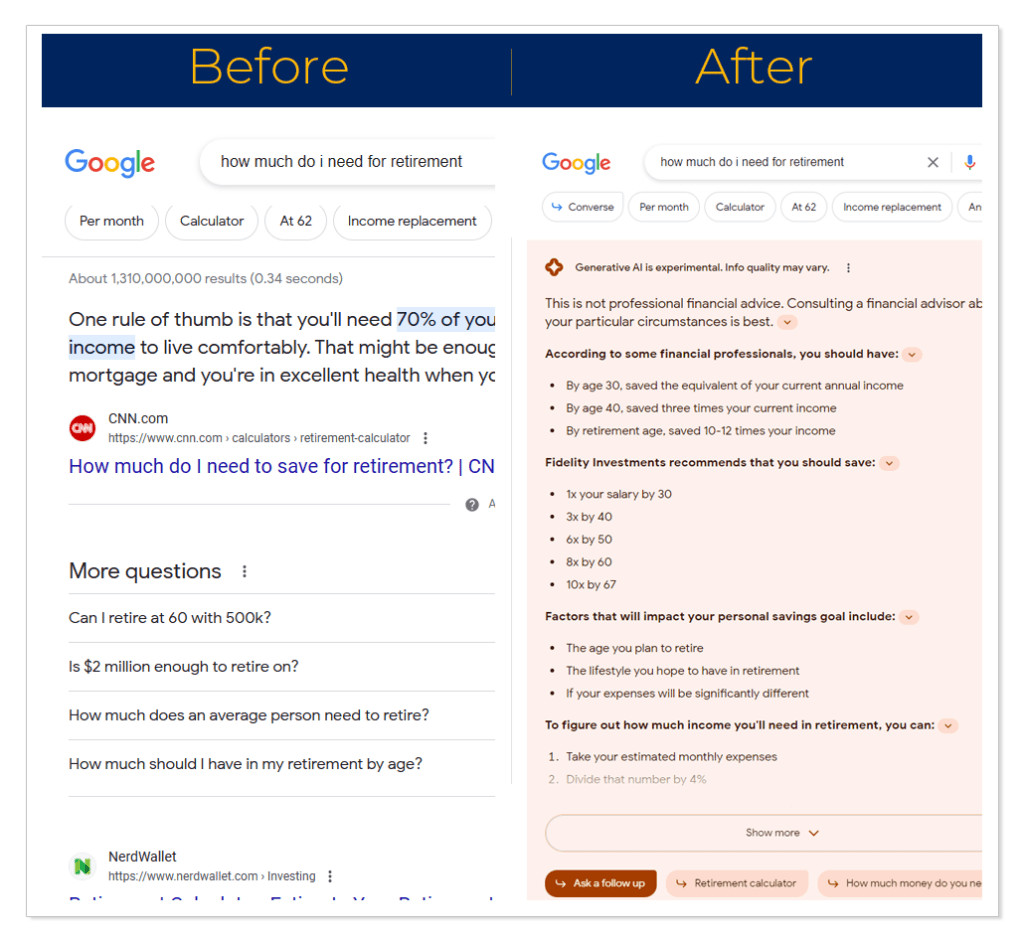 But what does the impact of AI search on SEO mean for time-tested optimization practices?
4 Game-Changing Impacts AI-Search will have on SEO
Based on insights from SEO experts closely tracking these developments, here are four key ways generative AI looks poised to transform search engine optimization:
1. More Zero-Click Searches
A clear byproduct of AI search advancements will be a surge in zero-click searches. In these searches, users find the information they need directly on the search results page, without needing to click through to other websites.
For years, Google has siphoned website traffic as its search results have grown more robust. Features like Knowledge Graphs, Google My Business profiles, and People Also Ask boxes enabled more direct answers. The impact of AI search evident as AI-powered tools like SGE will likely accelerate zero-click behavior, particularly for upper-funnel informational queries.
Example: A query like "Why has inflation gone up?" can be answered thoroughly by SGE, reducing the need to visit external sites.
Implication for Brands: With less traffic driven directly to websites, brands will need to rethink how they quantify value and brand impact in the AI search era.
2. More Volatility in Keyword Rankings
Historically, SEO has focused heavily on achieving consistent keyword ranking positions over time. The integration of AI into search algorithms may increase volatility in rankings. As search algorithms rapidly advance, we could see more fluctuation in rankings week-to-week for the exact same keywords. This demands greater agility to respond to AI-driven ranking shifts. Most rank tracking tools are still playing catch-up when it comes to monitoring rankings within AI search features.
Implication for Brands: Marketers will need to reduce dependence on tracking individual keyword rankings, instead shifting focus to benchmarking ranking for broader topics and pages that drive targeted outcomes.
3. The Ascent of Long-Tail Keywords
Google has shared that 15% of daily search queries are brand new, which is astonishing when you consider the billions of searches performed each day. As AI facilitates more natural, conversational searching, longer-tail keyword queries like "most fuel-efficient mid-size SUV 2022 safety ratings" may surpass shorter, broader queries like "top-rated mid-size SUVs." Mastering these longer, more specific queries will become critical for brands to stay relevant.
Implication for Brands: There is increased importance on creating comprehensive website content that goes beyond surface-level information to fully satisfy user intent. Brands that offer unique perspectives and original insights will stand out.
4. More Personalized, Contextual Results
A major goal of AI is to tailor hyper-relevant search results to each user's unique context – location, search history, device used, and more. This reduces reliance on generic keywords, prioritizing resonance with diverse audiences through tailored optimization. Although AI is intelligent, it still cannot replace real-world human expertise. As a result, search engines will continue to reward sites that demonstrate authority on topics.
As AI answers more queries directly on the search results page, brands must create compelling content and experiences that entice clicks to their sites.
Implication for Brands: Google continues to update the Helpful Content system and emphasizes the importance of E-E-A-T factors (Experience, Expertise, Authoritativeness, Trustworthiness). Brands providing original, high-quality insights tailored to their audience, through the lens of trusted experts, will pull ahead. However, brands churning out derivative, AI-generated content without human ingenuity will continue losing SEO traction.
Future-Proofing SEO for the AI Era
Given the enormous disruption already underway and the undeniable impact of AI search on SEO, how should brands evolve their SEO strategies to capitalize on the AI-powered future?
Audit AI Search Visibility: Evaluate brand visibility within Google SGE and other emerging AI search tools, for both brand and non-brand queries. Identify opportunities and priority pages to begin optimizing for enhanced AI search visibility.
Broaden SEO Approach: With AI transforming early discovery queries, SEO can't just focus narrowly on conversion optimization. Expand efforts to boost visibility and value across the full buyer's journey.
Build Expansive Topic Clusters: Consolidate content into conversational guides on topics most valuable to your audience, instead of isolated articles that target individual keywords. Demonstrate your definitive expertise around themes core to your brand purpose.
Obsess Over User Experience: As user experience grows as a ranking factor, rigorously monitor and enhance website speed, mobile optimization, overall UX, and user engagement metrics.
Leverage Structured Data: Help AI better comprehend your content through expanded use of structured data markup schemas,
Maintain an Agile Mindset: Given the rapid evolution underway in AI search, successful SEO will require embracing constant testing, learning and swift adaptation. Afterall, in SEO the only constant is change.
The Future of SEO
The rise of AI does not spell the end of SEO. On the contrary, SEO will remain vital – especially for brands combining AI capabilities with human creativity, expertise and insights. By starting to realign SEO strategies for 2024, forward-looking brands can ride the AI wave to unlock new levels of search marketing success.