Local Search is one of the most important, high-impact digital marketing channels for small, regional and national brick & mortar businesses.
Nearly 50% of all Google searches have local intent and of those searches, more than 60% occur on a smartphone. Consumer intent to transact is very-high when the search is local in nature as one study found that 88% of smartphone local searches lead to a phone call or store visit within 24-hours2! As industries are transformed by the predominant usage of smartphones along with changes in Consumer shopping behavior (including post COVID-19 impacts), it is critical that locally-based businesses embrace the opportunities Local SEO provides and take the necessary steps to win their fair share of customer demand.
Winning in Local Search is more than just winning in Google, as other platforms continue to have strong reach including Bing, Facebook, Yelp and Apple. However, the dominant player in local search is Google which is where we will focus our recommendations in this post. Due to Google's evolving Search Engine Results Page (SERP), businesses have many avenues to drive local traffic including the Local Pack, Organic results, Google Ads and Local Service Ads. The lion-share of click activity happens in the Local Pack and Organic Results where it pays huge dividends to rank well in both! Google offers solid guidance to businesses on how to appear often in Google My Business (GMB) and publicly-states they determine local rankings through Relevance, Distance and Prominence. Unfortunately, these are broad stroke factors that require greater detail.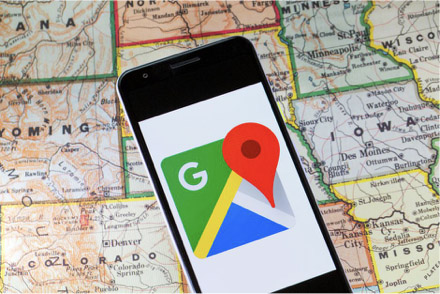 Image Source: CNet
Let's unpack our 7 tips for winning the Local SEO game:
1. Understand your audience and the competition – keyword research is the foundation to any search-based marketing effort, but local search is nuanced with "near me", "nearby" and city-specific qualifiers. It is important you understand how your customers search for and think about your products or services so that you can market to this regional demand in your Google My Business (GMB) profile and website pages. Google typically knows a user's physical location via geolocation on mobile devices, Wi-Fi networks and IP addresses which reduces the need to optimize marketing content for explicit "near me" terms.  However, using localized context clues, points of interest and colloquial jargon could help boost your geographical relevance based on your various store location pages. Write great headlines and infuse your local pages with your unique selling points and why prospective customers should transact with you in that given market.

2. Optimize all facets of GMB –
 Ultimately, a complete and active Google My Business profile is the catalyst to winning visibility atop the local map pack results (browser and Google Map app results). In fact, 82% of local marketing experts say GMB optimization is "very effective" in improving local pack rankings3. Beyond the basics of fully 
completing your GMB profile
, the real growth begins when you take control of getting more Google reviews and actively responding to them, keeping your information updated and writing Google Posts. In some major industries, such as hotels, GMB does not allow for Posts which is mind-boggling, but if your industry supports Posts it is critical you embrace this micro-blogging opportunity with regularity.
Bonus Tip: Lets face it, your GMB profile is your new home page! Google is taking more traffic from brand.com websites everyday and keeping users in their own ecosystems (ex. YouTube, rich snippets, News, Travel, Local Service Ads, etc). Google My Business has become the ultimate dis-intermediary of your website traffic. We must accept, embrace and jump into this new world to meet customers where they choose to do business.

3. Keep your Citations & Listings updated – This is an older tactic that has been foundational to local SEO for nearly a decade. Some could argue this is less important, but it really depends on your business, industry & scale. Data accuracy and consistency for location marketing is critical and ensuring NAP (Name, Address, Phone) and other critical business data is the same across many sources helps Google pinpoint accurate location data. SMBs can focus on updates with the big aggregators (Acxiom, Localeze, Infogroup, Factual), not to mention direct control over GMB, Bing Places, Facebook, Yelp, etc. Large enterprises with hundreds to thousands of locations should invest in a hybrid model by combining data-driven, automated services (ex. BrightLocal, RioSEO and Yext) with in-house oversight and intervention to troubleshoot data conflicts, review responses and rogue listings created by frontline employees.

4. Localized website content on-page SEO –
 Winning Local SEO includes having a well-optimized brand.com experienced. In most cases, the best approach is to create scalable city and location pages where unique URLs can be leveraged in citations and local listings to match the location data. While templates are the "pipes" for scale (layouts, folders & URLs, maps, NAP, etc), unique content tailored that is to the local market is the "flavored water" that brings unique relevance to the customer … and Google. Large brands who empower regional leaders or store owners to contribute content ideas back into centralized marketing teams can ignite differentiation and local relevance to win local search visibility. Your frontline leaders know their local market best (ex. the 'town mayors') and can infuse geo-centric insights to make your content pop. This is not easy and should be supported by stable workflow automation, feedback loops, federated CMS responsibilities and brand governance to mitigate risks but the payoff can be huge. As an example, Roto-rooter location pages are tailored to each hyper local market content to help win share.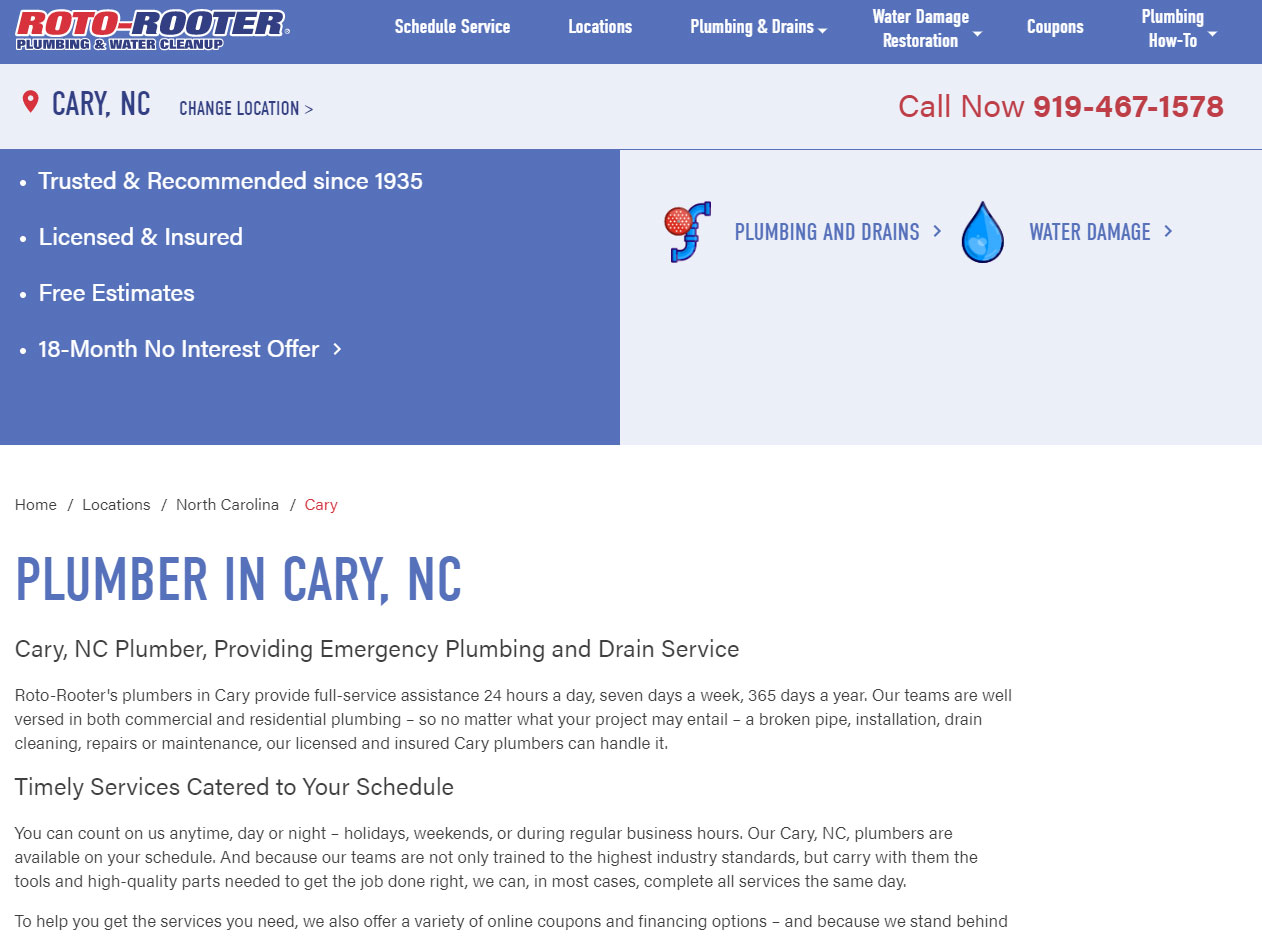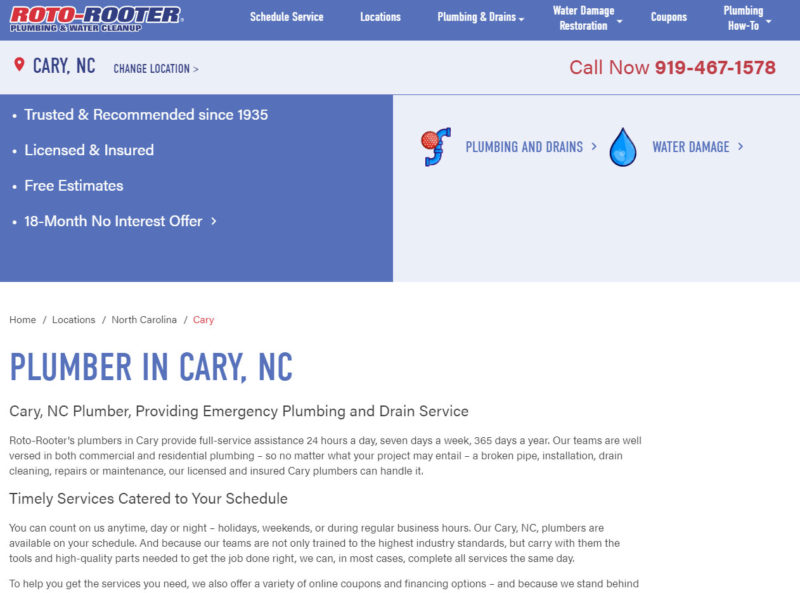 Bonus tip: scale content development by answering common questions across stores and unique to markets and leverage FAQ schema markup to get more shelf space in Organic results. See the below examples from a national retailer (Roto Rooter) that 'gets it'.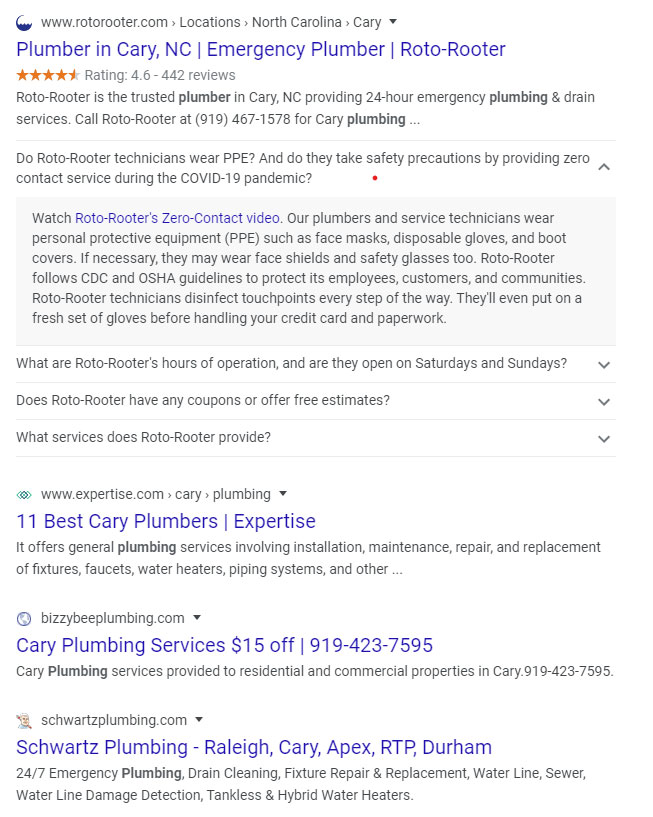 5. Local Linking Building – We know that Google was built on the fundamental principle that the Internet is a collection of documents and links to and from websites were foundational to crawling and ranking pages. Fast forward 15+ years and links to your website still matter, but quality trumps quantity and naturally earned links matter most. For local businesses, securing trusted citations and links from other trustworthy local business entities helps to boost your own local relevance. Some examples of valuable local links to your pages include local chambers of commerce, non-profits you actively support, civic organizations you're actively involved in to do good in your community, local sports team sponsorships and other commercial business partners that may refer business to you and vice-versa.

6. Care for and Cultivate Customer Reviews –
 Word of mouth and customer validation is a major ranking signal in local SEO, particularly GMB. The quality of your service or products and how they help customers is what your prospective customers and Google care most about. Not only do the ratings, velocity and recency of reviews matter but your dedication to acknowledging and responding to reviews will help differentiate your business. Google support has 
an entire page dedicated to the topic
 and suggests business owner replies be courteous, genuine, short & sweet, thankful and empathetic. Reviews matter as does how you handle constructive feedback.
7. Using Analytics to Understand Success or Failure – Local SEO requires a variety of measurement platforms to understand your visibility, reach and engagement. The most practical tools to use beyond your own website analytics include GMB Insights, Search Console and a trusted third-party platform to monitor local rankings, review sentiment and other local listing performance beyond Google. As mentioned earlier, GMB is keeping more of your website traffic in its own ecosystem. GMB Insights provides great perspective on Search and Map impressions, website clicks to your .COM pages, click-to-call volumes for mobile GMB users, clicks for directions, Post engagement and other useful metrics. Setting up scalable dashboards for multi-location businesses is essential to monitor regional performance, identify top performing locations and spot underperforming storefronts where there is opportunity for growth.

BONUS TIP
: Local Service Ads are a great way for many businesses to advertise when local search Consumer intent is high and lead generation is paramount. This pay to play model provides extra exposure in local SERPs and you only pay when customers call or message you from your ad. Local Service Ads are not available in all industries or cities in the US but create another avenue to win the Local Search game beyond Local Packs and Organic Search. Just like GMB, this is another model where Google keeps the Consumer in its own environment and they never get to your website so using Local Ads dashboards to monitor reach, performance and stitching that data together with your GMB Insights and Site analytics is critical to measure your entire local reach. If you need to book more local jobs to grow your business, checkout 

Local Services by Google

.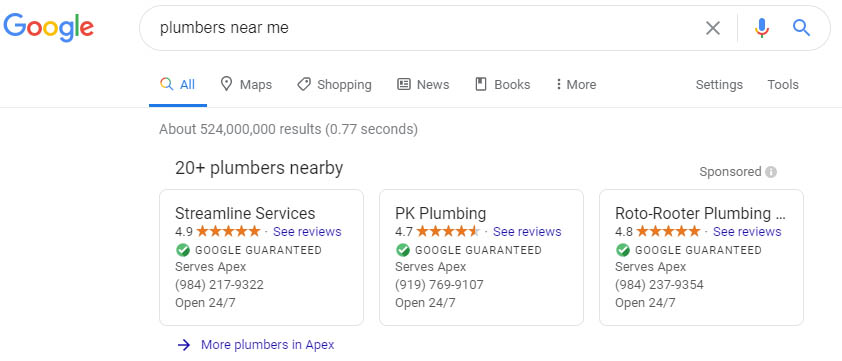 Source: Google Local Service Ads screenshot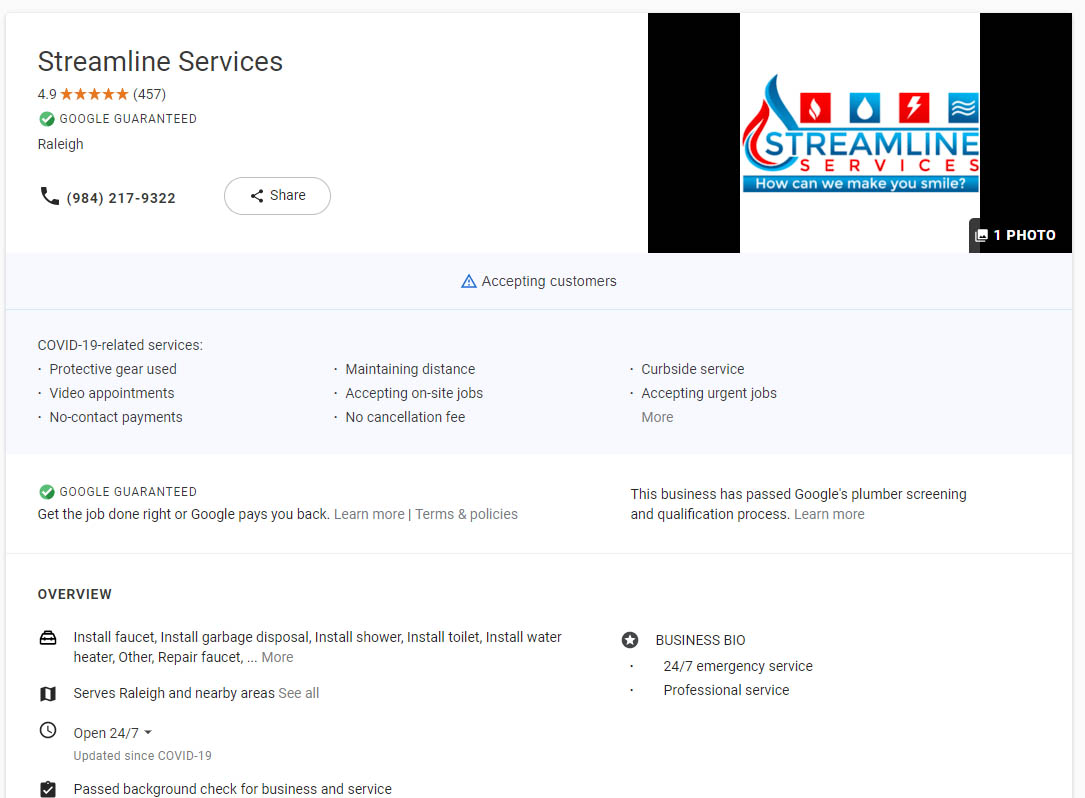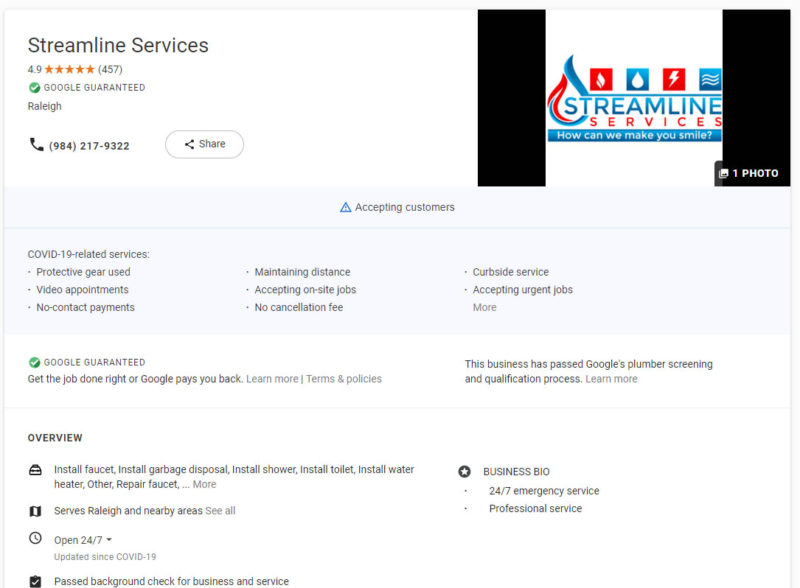 Image Source: Google Local Service Ads landing page for a local plumbing business Cited Statistics: 1- Hubspot, 2 – Ahrefs, 3- BrightLocal